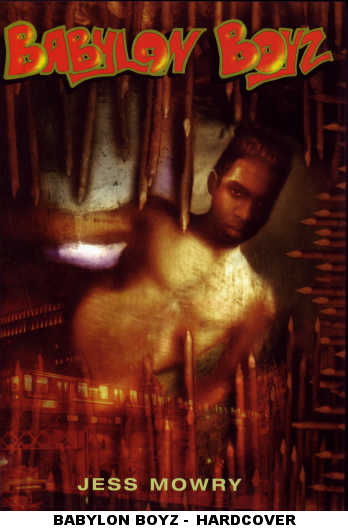 From author Jess Mowry
My sixth book (fifth novel) Babylon Boyz, is somewhat of an enigma, and some might call it a regression into the "guns, gangs, drugs and violence" of my earlier (and apparently more "popular") work. This "regression" was neither intentional nor a sell-out, but rather the result of a good story idea that was what it was.
Babylon Boyz is about Dante, a 13-year-old boy, and his two homies, 14-year-old Pook and 13-year-old Wyatt, who stumble upon a pack full of pure cocaine abandoned in a major drug-deal gone bad, and must decide whether to use the money it could bring them to get out of the ghetto (Pook wants to go to medical school and become a doctor, and Dante, born to a crack-addicted mother, needs a heart operation) even though selling it will only bring more pain and suffering to their Brothers and Sisters.
Unlike Six Out Seven, Babylon Boyz does have a "real" gay character, who was based upon the friend of one of my sons. Babylon Boyz was published in the U.S. as a hardcover "young-adult" book by Simon & Schuster in 1997, and seems to have done fairly well-- it is currently being reprinted in trade-paper format.
But, once again, I came up against the fact that the white, mainstream publishing industry is not about to publish "just stories" black books, or books in which black characters-- especially young black males-- do not behave as they are (apparently) expected to.
Despite the fact that Babylon Boyz is doing well, Simon & Schuster rejected my next manuscript, titled Skeleton Key (a book that is still looking for a publisher) on the grounds that it would "feed stereotypes" (of black kids).
Fortunately or finally, Skeleton Key is scheduled for publication in January 2007. The image above is not the book cover. I will post the actual cover and more information when it becomes available. For now, here is a description of the book and excerpts from various chapters. These are only parts of chapters, and not all chapters have been excerpted.
Skeleton Key may be ordered now (pre-publication) from Amazon, other book-sellers, or directly from Windstorm Creative - Young Adult Books. Advance orders are one of the best ways you can support authors.
These excerpts may be regarded as uncorrected galleys.If you are interested in reviewing this book when review copies become available, please contact Windstorm Creative - Main Page.
Ya Dig?

Honoring the 20th anniversary of Spike Lee's 40 Acres & a Mule production company, Marc EckoWhat's Really Good Magazine is selling the collection for a limited time (through 23 October 2006) from their online Pop-up shop. T-shirts start at $55. Here's to 20 more years of Spike

recently lent his sartorial flavor to a new line of sportswear that debuted this week. Inspired by memorable cinematic moments from Spike Lee's films, the collection of varsity jackets, rugby jerseys, graphic t-shirts, french terry hoodies and light jackets share the same in-your-face humor and bold looks that make a Spike Lee Joint. Details like an embroidered skull emblem and a mule patch on the Wake Up Rugby and the shout-outs to Lee's legacy on the Sho' Nuff fleece (pictured, middle), are well-made tributes to the films of a seminal American filmmaker.
The hands of Love and Hate is the tale of good and evil each one continuously fighting each other for the title . In this great piece we see the classic fists of Radio Raheem the most memorable character of "Do the right thing".
Movie Influence: Do the Right Thing circa 1989
Play


Pardon my French
Q

uand les poules auront des dents
is an insane and funny animation about what can happening when a chicken with teeth gets crazy in a small farm planet, by Julien Borde, Matthieu Cordenier and Henri Danjou. There is something in this animation that makes me remind of Le Petit Prince, probably the image of a very small planet, and, of course, it makes me remind of Chicken Run too. (via NicoSite)

In the year 2014 the New York times has gone offline
The Fourth Estate's fortunes have waned
What happened to the news?
and what is EPIC