Boondocks is dead, (at least the strip) long live the king
Boondocks absence may provide other black cartoonist the opportunity to see their strips serialized
Watch your Head
WYH scheduled released Jan 2007
The strip chronicles the lives of six teenagers as they awkwardly negotiate the unfamiliar terrain of adulthood. They come from different backgrounds and cultures, bringing their unique perspectives to the campus of Oliver Otis University, the purported Mecca for black intellectuals.
The strip follows their development as they begin the process of growth and venture on their individual paths. They face their inexperience, insecurity and idiosyncrasies and gain enlightment
Check out his site
here
Life's Little Victorie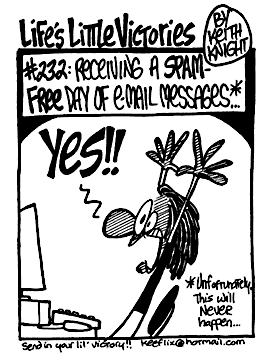 Keith Knight's strip Life's Little Victories are tiny little daily occurances that make one quietly say "YES!!" What began as a one-shot strip has bloomed into a regular reader favorite.
Knight is part of a new generation of talented young African-American artists raised on hip-hop; artists who infuse their work with urgency, edge, humor, satire, politics and race.

Learn more about Keith here

JustUs
Speaking of edgy and the closes to Boondocks and my favorite is Justus comic - a concious comic for the unconcious world featuring Katrina Comics to read more click here
House Broken
A lot of rap stars go broke. A lot of rap stars own pitbulls. Housebroken tells the story of a pitbull rap star who went broke. Now living in suburbia with the family of his attorney, DJ Dog, A.K.A. Doggie Soprano A.K.A. The Notorious D.O.G. struggles to adjust to his new lifestyle
To see the animated House Broken short click here
SAY WHAT?!



In the tradition of coming of age tales like COOLEY HIGH and irreverant urban comedies like BARBERSHOP and FRIDAY comes the hilarious misadventures of Mort and the gang as they leap into one of life's greatest challenges… life after high school!

Fresh out of high school Mort has the passion of becoming a journalist. While most of his friend's have already decided on their path in life, Mort remains unsure. Although his passion is journalism, he can't imagine being under the thumb of a big corporation.

COMING SOON From GETTOSAKE
Play
For those of you who are into Soduko I present Jigsaw Soduko click here