"When you want to write fiction, you become god of the world you create. The world of fiction is so free and so open; if you want to write, try to take advantage of that freedom
." Toure`


Who is this brotha?


Touré
is a correspondent for BET and the author of Soul City, a novel. He's also the author of the Portable Promised Land, a collection of short stories, and Never Drank the Kool-Aid, a collection of his magazine work. He's been a Contributing Editor at Rolling Stone for over ten years and was CNN's first Pop Culture Correspondent, and was the host of MTV2's Spoke N Heard. He has appeared on many TV shows including the Today show, the O'Reilly Factor, Paula Zahn Now, Anderson Cooper 360°, and Topic A with Tina Brown where Brown called him, "a one-man media conglomerate."

Whats in a name?
Touré is his real name, the name his mother gave him when he was born, the name his parents consciously chose for him. The last name was something that came along automatically, like fries with a burger. It wasn't something that meant anything to him. Where other people have stories from grandpa or great-grandpa that make family history come alive, his father's father passed away before his father was born, a symbol of how the link with history was broken. And plus, Toure is a last name in Africa. They laughed at him there—Silly American. Touré ain't no first name. It's kinda like an African named Kennedy. But in the one-namedness there's a reference to the dislocation implicit in the African-American family name and a
reach back to the unknown last names of Africa.
What he do?


"Toure can debate the politics of race with arch-conservatives on news shows; he has written insightful articles on everyone from Lauryn Hill to Jay Z to the White Stripes; and has written brilliant surrealistic novels," says BET President Reginald Hudlin.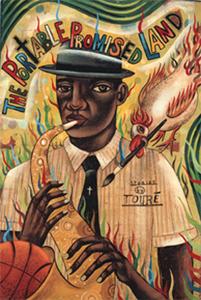 "He's a triple threat that will
broaden
and deepen our coverage of
the entertainment landscape. He's a dynamic presence on screen with a strong perspective our viewers want."


On Writing
Toure` believes that there is still time for you to become a writer, no matter where you are in your life right now. (And I highly recommend the writer's life.) But to become a good writer you must be a good reader. A good reader may or may not become a good writer, but you can't hope to be a good writer unless you're a good reader. That means reading a lot and reading great stuff. To read all Toure's thoughts on writing
click here
Favorite Books
Books that were Toure`s favorite growing up and ones that he would recomend are
Lolita (Nabakov),
1984 (Orwell)
,
Invisible Man (Ellison).
ALl incredible


Does Comic

Toure` even appeared in the comic book wedding of Black Panter and Storm
Visit his City

Check out Soul City, Tour's official website
click here
to visit
Also check out his myspace site
here
What Time is it? Its Human Time
Check out artist Billy Chasen. Com human clock
Click
here
to get
there